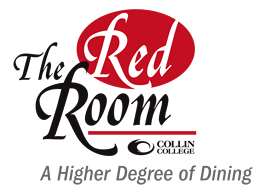 Welcome to
The Red Room
,
"A Higher Degree of Dining,"
where guests are treated to mouth-watering cuisine and great hospitality in an elegant, yet peaceful dining area serviced by
Collin College Institute of Hospitality and Culinary Education
students.
Prepped as a working educational lab, The Red Room is unique for many reasons. Most notably, aside from the restaurant opening its doors to the public, The Red Room is serviced by Collin College's Dining Room Service and A La Carte Cooking classes.
This combination allows Collin College students in the Dining Room Service class to support the front-of-the-house restaurant management experience while the A La Carte Cooking students prepare, cook and expedite food in the back-of-the-house.
Meanwhile, students in both classes learn the importance of communication between the dining room and kitchen and how to market the restaurant and staff while delivering exceptional service.
Location:
Preston Ridge Campus, Alumni Hall 150
9700 Wade Blvd.
Frisco, Texas 75035
The purpose for The Red Room is to serve as a learning environment for students, who are in training. 
*Red Room will re-open on Spring 2017.  

---
KATIE PRICE- Student Artist
"Food Baby" is a modern representation on the classic theme, good vs evil. Each piece represents a story between conflicting characters. Baby dolls are a great symbol of the theme. When we're young, playing with dolls, it's sweet and innocent, a symbol of childhood. Then what happens? One day your older brother comes into your room and disassembles all your dolls. You're five years old and trying to fall asleep cradling a mass of disfigured doll parts. No longer are they the pure symbol of innocence. A doll head unattached from its body is the quintessential representation of evil. This series has been my favorite to create so far. Two more are currently in the works then I will be moving on to a sculptural series using layers of glass to create 3-D images.  
Contact TTraweek@collin.edu regarding pricing and purchase of works.