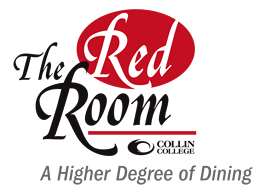 Welcome to
The Red Room
,
"A Higher Degree of Dining,"
where guests are treated to mouth-watering cuisine and great hospitality in an elegant, yet peaceful dining area serviced by
Collin College Institute of Hospitality and Culinary Education
students.
Prepped as a working educational lab, The Red Room is unique for many reasons. Most notably, aside from the restaurant opening its doors to the public, The Red Room is serviced by Collin College's Dining Room Service and A La Carte Cooking classes.
This combination allows Collin College students in the Dining Room Service class to support the front-of-the-house restaurant management experience while the A La Carte Cooking students prepare, cook and expedite food in the back-of-the-house.
Meanwhile, students in both classes learn the importance of communication between the dining room and kitchen and how to market the restaurant and staff while delivering exceptional service.
Location:
Preston Ridge Campus, Alumni Hall 150
9700 Wade Blvd.
Frisco, Texas 75035
The purpose for The Red Room is to serve as a learning environment for students, who are in training.
*Red Room is now open every Thursday for lunch, 11am-12:30 pm. Make reservation now.
1/28/16- English Service  (Family Style) menu 
2/4/16- French Service menu
2/11/16- American Service 
2/18/16- American Service
2/25/16- American Service
3/3/16- Buffet Service
3/17/16- French Service
---
 
MONICA HERNANDEZ- Student Artist
The student's prowess with pastels as a medium is impressive as she challenges herself to enter into an investigation of the familiar.This is the first "more rugged and used" subject and also one of the most difficult as far as technique and color choices are concerned (due to the black surface). Priorities for her have been involved with combining elements from photographs and capturing the crisp detail of her subjects with a soft material such as pastels. Monica has taken her Collin art classes here at Preston Ridge Campus and has been a familiar face for the past two years. She is scheduled to begin her studies at the University of North Texas here in the Spring of 2016 and we are indeed proud of the excellence that she has attained.  The series strength would have to be the subject matter as it invites the viewer to appreciate in a visceral way, the "tastes of Texas". It places emphasis on a very appealing play of words and emotions as we explore still life setups in a regional way.  Monica is definitely one of our "rising young art stars" here in the North Texas area and we invite you to enjoy her artwork in  the Red Room.