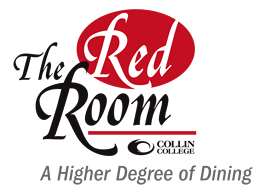 Welcome to
The Red Room
,
"A Higher Degree of Dining,"
where guests are treated to mouth-watering cuisine and great hospitality in an elegant, yet peaceful dining area serviced by
Collin College Institute of Hospitality and Culinary Education
students.
Prepped as a working educational lab, The Red Room is unique for many reasons. Most notably, aside from the restaurant opening its doors to the public, The Red Room is serviced by Collin College's Dining Room Service and A La Carte Cooking classes.
This combination allows Collin College students in the Dining Room Service class to support the front-of-the-house restaurant management experience while the A La Carte Cooking students prepare, cook and expedite food in the back-of-the-house.
Meanwhile, students in both classes learn the importance of communication between the dining room and kitchen and how to market the restaurant and staff while delivering exceptional service.
Location:
Preston Ridge Campus, Alumni Hall 150
9700 Wade Blvd.
Frisco, Texas 75035
The purpose for The Red Room is to serve as a learning environment for students, who are in training.
Note:  Red room will reopen on Spring 2016 for lunch.
---
Enjoy Rotating Art Exhibits at the Red Room 
The Art Department and the Institute of Hospitality and Culinary Education at Collin College continue its partnership! "The Red Room" is located on the beautiful Preston Ridge Campus in Frisco. This exciting venue serves a tasteful menu of Culinary Delights as showcasing stimulating student & instructor artwork in four exhibitions throughout the academic year. Be sure to plan a trip to "The Red Room soon!