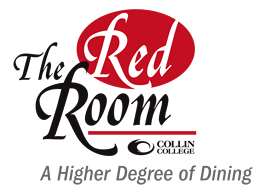 Welcome to
The Red Room
,
"A Higher Degree of Dining,"
where guests are treated to mouth-watering cuisine and great hospitality in an elegant, yet peaceful dining area serviced by
Collin College Institute of Hospitality and Culinary Education
students.
Prepped as a working educational lab, The Red Room is unique for many reasons. Most notably, aside from the restaurant opening its doors to the public, The Red Room is serviced by Collin College's Dining Room Service and A La Carte Cooking classes.
This combination allows Collin College students in the Dining Room Service class to support the front-of-the-house restaurant management experience while the A La Carte Cooking students prepare, cook and expedite food in the back-of-the-house.
Meanwhile, students in both classes learn the importance of communication between the dining room and kitchen and how to market the restaurant and staff while delivering exceptional service.
Hours of Service on Spring 2015 :
Dinner seating is from 6:00 pm -8:00 pm (open during selected Wednesdays only)
Service Dates: 
Feb 4
th-- 
English Service--
see set menu
March 18th--Buffet Service-- set menu
April 1st-- English Service-- set menu
April 8th-- Russian Service-- set menu
April 15th-- American Service-- A la Carte menu
April 22nd-- American Service-- A la Carte menu
April 29th- Red Room closed for private function
May 6th-- French Service-- set menu
May 13th-- Buffet Service--set menu
For more information:
Please contact Abby Christian at
achristian@collin.edu
 or call 
469 365 1810.
All menus are a collaboration between the student Executive Chef and Chef Thomas Nixon.
Location:
Preston Ridge Campus, Alumni Hall 150
9700 Wade Blvd.
Frisco, Texas 75035
The purpose for The Red Room is to serve as a learning environment for students, who are in training.
---
 Red Room Featured Artworks
Press Release for Red Room Exhibition Spring 2015
"The Visual Arts Department at Preston Ridge would like to announce yet another selection of art for the "Red Room" in 2015.  Professors Traweek and Carver are arranging a group of exciting ink artworks that are straight from our studios here at PRC. This "Ink Invitational" will highlight the versatility of ink as a drawing and painting material. Participating artists and alumni include: Mayra Cantu, Kayleigh Doyle, Kim Etherington-Reid,Antonie Fiedler, Amanda Fugate, Abram Nguyen, Karalie Paris, Matthew Perry, Katie Price and Anthony Sikora."
"Be sure to plan a trip to "The Red Room" soon!"