On View
February 20, 2019
through
March 20, 2019


Telling Stories
Sculptural
Works by
Phillip Shore


Reception
Thursday, March 7
Free and Open to the Public
4:00 PM to 7:00 PM
Art Café
Thursday, March 7
with
Phillip Shore
1:00 to 1:45 PM
in the gallery
On View

March 27, 2019
through
April 17, 2019

Energy 2019
Graphic Design
Exhibition


Energy 2019
will showcase student work
representative of the
Communication Design
department's programs
in Animation & Game Art,
Graphic Design and
Video Production.
The work on display
will feature the
creative process from
concept development
through final execution
in print and
electronic form.

Reception
Thursday, April 4
Free and Open to the Public
4:00 PM to 7:00 PM


Art Café
Thursday, April 4

1:00 to 1:45 PM
in the gallery
with
George Neal
(The Art of Star Wars)
On View
April 24, 2019
through
May 15, 2019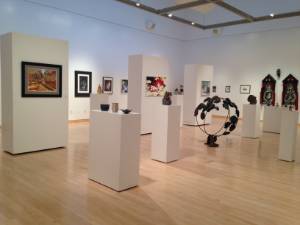 Collin College
Student
Invitational
Exhibition

A select group
of returning students
have been nominated
by a member
of THE ARTS faculty
of Collin College
and will exhibit
one or two pieces
of their recent
art works
from all media.


Reception
Thursday, May 2
Free and Open to the Public
4:00 PM to 7:00 PM


Art Café
Thursday, May 2
Free and Open to the Public
1:00 to 1:45 PM
in the gallery