Campus facilities are closed until further notice. Limited in-person appointments are available.
Stay informed: COVID-19 Updates and FAQS
The Office of Internal Audit, in alignment with the District's core belief statements and goals, will promote good stewardship of District assets and resources to uphold the highest level of integrity and intends to serve as a valued partner and a trusted advisor.
To enhance and protect organizational value by providing risk-based and objective assurance, advice, and insight.
The Office of Internal Audit is an independent, objective assurance and consulting activity designed to add value and improve the District's operations. The department aims to help the District accomplish its objectives by bringing a systematic, disciplined approach to evaluate and improve the effectiveness of risk management, control, and governance processes.
The Office of Internal Audit is committed to certain values in carrying out its mission:
Providing excellent service to our clients including the Board, management, staff, and the community of the Collin College District.
Performing our work in accordance with professional standards established by the Institute of Internal Auditors (IIA).
Maintaining independence, objectivity, and confidentiality in the performance of our work.
Adhering to the highest degree of fairness, integrity, and ethical conduct.
Characterizing our relationships with the Board, employees, and community of the Collin College District with respect, helpfulness, openness, and transparency.
Maintaining our professionalism as internal auditors through continuance of our education and training.
---
Audit Process
Please see this flowchart that outlines the overall audit process.
Audit Charter
The Audit Charter is the document that describes the manner in which the requirements from the Audit Standards will be adhered to at Collin College. It is approved by the Board of Trustees, the Finance and Audit Committee and the District President and details the:
Mission and Scope of Work
Accountability
Independence
Responsibility
Authority
Standards of Audit Practice
The charter provides auditors the capability to have access to any personnel or documentation required to complete an audit project.
A copy of the charter is available here.
Audit Plan
The audit plan is the work plan for the department for a particular fiscal year. Efforts are made to incorporate management's input as the department develops the audit plan.
During the fourth quarter of each fiscal year, the plan for the upcoming year is shared with the Finance and Audit Committee Meeting and the Board of Trustees for formal approval.
The audit plan that gets published can include a variety of project types such financial reviews, IT related reviews, or compliance reviews. Also, if management requests, consulting engagements can be included on the audit plan also.
Audit plans are available here:
Organization Chart
To faciliate compliance with Audit Standards and help the department achieve independence, the Director of Internal Audit reports functionally to the Board through the Finance and Audit Committee and administratively (i.e., day-to-day operations) to the District President.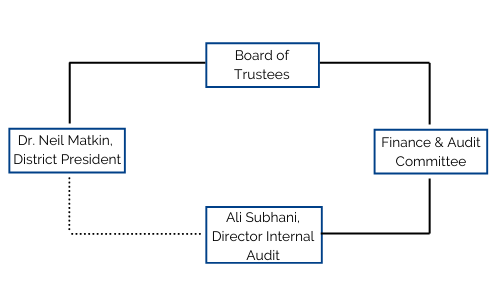 ---
Contact Us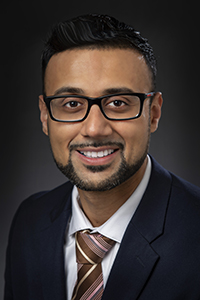 Ali Subhani, CIA, CISA, GSNA
Director Internal Audit
Phone: 972-516-5036 | Email: asubhani@collin.edu
Address: 3452 Spur 399, Mckinney, TX 75069
Office Number CHEC 442