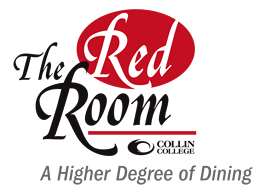 Welcome to
The Red Room
,
"A Higher Degree of Dining,"
where guests are treated to mouth-watering cuisine and great hospitality in an elegant, yet peaceful dining area serviced by
Collin College Institute of Hospitality and Culinary Education
students.
Prepped as a working educational lab, The Red Room is unique for many reasons. Most notably, aside from the restaurant opening its doors to the public, The Red Room is serviced by Collin College's Dining Room Service and A La Carte Cooking classes.
This combination allows Collin College students in the Dining Room Service class to support the front-of-the-house restaurant management experience while the A La Carte Cooking students prepare, cook and expedite food in the back-of-the-house.
Meanwhile, students in both classes learn the importance of communication between the dining room and kitchen and how to market the restaurant and staff while delivering exceptional service.
Location:
Preston Ridge Campus, Alumni Hall 150
9700 Wade Blvd.
Frisco, Texas 75035
The purpose for The Red Room is to serve as a learning environment for students, who are in training.  
Hours of Service on Spring 2017 :
Dinner seating is from 6:00 pm -8:00 pm (open during selected Thursdays only)
January 26 - Family Style Service
February 2 - French Service 
February 9 -American Service
February 16- American Service
February 23 - Buffet Service
March 2 - American Service
March 16 - French Service
March 30 - Family Style Service
April 6 - French Service
April 13 - American Service
April 20 - American Service
April 27 - Buffet Service
May 4 - American Service
May 11 - French Service
---
Red Room Exhibition Spring 2017
featuring Christa Grogan, a Collin Fine Arts Alumni
Artist Statement: The 'Moods of Haybales' series was inspired by my past. I grew up around animals and open spaces and miss seeing the quiet spaces of Nature and the fresh earthy smells just after a rainstorm.  I've always been drawn to the interesting shapes, shadows and colors of the haybales in the fields and wanted to invoke those feelings of solitude and introspection while exploring the scene.
  My work tends to focus on Nature and animals, and with a background in Geoscience, I can't help but notice environmental issues.  Sometimes this will quietly show up in my paintings without being intentional.
  I have worked solely with acrylic but plan to branch out into oils soon. As I explore techniques and mediums, I hope the viewer can imagine a sweet breeze across a field of freshly cut hay, or perhaps the touch of a fluffy cat beside them and feel a sense of connection to their personal message from the works. 
  Contact TTraweek@collin.edu regarding pricing & purchase of works