Surgical Technology Program
Surgical Technology
---
Central Sterile Processing Certificate
Surgical Technology AAS Degree
The Certificate in Central Sterile Processing is a two semester program. Enrollment is limited and competitive. Admission to Collin College does not guarantee admission to the Central Sterile Processing Program.
Graduates of this program are eligible to sit for the national certification examination administered by the International Association of Healthcare Central Service Material Management (IAHCSMM). Those students passing the exam are allowed to use the title Certified Registered Central Service Technician.
Your first step is to be admitted to Collin College.
The following tabs contain information you should consider before applying to the program.
Curriculum
Certificate - Central Sterile Processing

First Semester

Online Didactic Courses

Lec

Lab

Hours

HPRS

1370

Central Sterile Processing II

3

1

3

HPRS

HPRS

1470

1471

Central Sterile Processing I

Central Sterile Processing III

4

4

1

1

4

4

Total Hours

11

3

11

Second Semester

Clinical Course

HPRS

1561

Clinical - Health Services / Allied Health / Health Sciences, General (Capstone – 400 Clinical Hours)

0

0

5

Total Hours

0

0

5

GRAND TOTAL HOURS

11

3

16
This field requires sitting/standing for prolonged periods, frequent walking and reaching (overhead, extensive and repetitive). Proficient communicative, auditory and visual skills are needed. Attention to detail and ability to write legibly are necessary. Must have the ability to lift/push/pull greater than 50 pounds. May be exposed to fumes, chemicals, cold, nose, radiation, blood/body fluids, and infectious diseases.
The AAS in Surgical Technology at Collin College is a 12 month program (Summer, Fall, Spring) that will prepare the student for entry-level as a surgical technologist. The course of study consists of approved courses from the Workforce Education Course Manual of Texas. These courses must be taken in full sequence to assure progression of content from simple to complex. The
Surgical Technology curriculum
is approved by the Texas Higher Education Coordinating Board and modeled after the Association of Surgical Technologists national curriculum.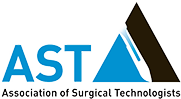 Association of Surgical Technologists
6 W. Dry Creek Circle, Suite 200, Littleton, CO 80120
Accreditation Review Council on Education in Surgical Technology
19751 E. Mainstreet, Suite 339, Parker, CO 80138
The Commission on Accreditation of Allied Health Education Programs
9355 113th Street N., #7709, Seminole, FL 33775