All campuses are open and ready to serve students virtually, hybrid, or in person.

Interpreter Education Program
Interpreter Education Program

If you are interested in an interpreting career and working with the Deaf community, an associate degree (AAS) or certification from Collin College is an excellent way to start!
Collin College's Interpreter Education Program (IEP) provides a firm foundation in American Sign Language (ASL), including language learning, interpreting skills, and an understanding of Deaf Culture. Deaf professors teach our ASL and Deaf Culture classes, providing strong support for student learning.
Degree Options
The Associate of Applied Science (AAS) in IEP prepares entry-level professional ASL-English interpreters who are capable of passing the Board for Evaluation of Interpreters (BEI) at the Basic Level as a minimum, with a high level of ASL proficiency, an understanding of Deaf Culture, and knowledge of best practices in the field. This program requires completion of 65 credit hours of classes.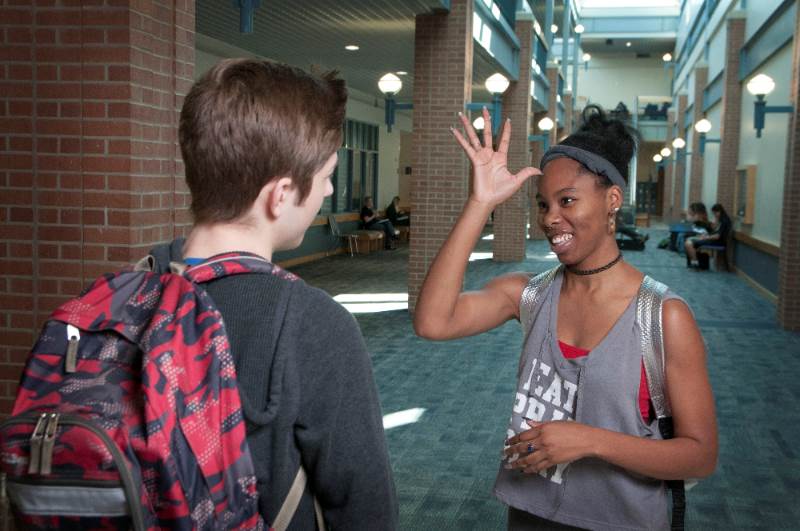 The Certificate in ASL Studies provides students with a high level of ASL proficiency, an understanding of Deaf Culture, and rudimentary knowledge of interpreting skills. This certificate may be appropriate for students planning to work in Deaf Education and required to take the Texas Assessment of Sign Communication (TASC) (teachers of Deaf students) or the TASC-ASL (ASL teachers and bilingually certified teachers).
For more information, see the IEP Degree Plan in the Course Catalog.
To officially join the IEP program, please see the IEP Advising page and schedule an IEP advising appointment.
The IEP program includes access to our ASL Lab, which simulates the Deaf Culture environment. In this lab, Deaf lab instructors provide invaluable opportunities for you to become fluent in ASL and also acquire culturally appropriate behaviors. Similarly, the ASL Lab offers unparalleled support through practice with interpreting skills and access to highly-qualified professional interpreters. Click here for more information, including location and hours.
Other links: