Welcome to Collin College's Honors Institute
Honors Institute
View College COVID-19 Information
The Honors Institute at Collin College offers qualified students with a 3.25 GPA or higher an enhanced academic experience during their time at Collin. Taking honors courses offers students an excellent foundation for transfer to four-year universities and graduate programs. Honors students also enjoy several perks in recognition of their academic achievements.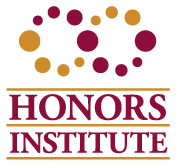 Please choose your desired campus for location, specific hours, and courses.
Keep an eye on your registration!
The Collin College Honors Institute strives to offer our students a wide variety of courses. Students registering for honors are among the first allowed to register for classes each semester, which is convenient, considering honors courses tend to fill up quickly because they are smaller than a regular course (15-18 students). From time to time an honors course may not make; an honors course may be canceled altogether or converted into a regular class. Please keep an eye on your registration during the two to three weeks prior to each semester opening. You will be able to see if a course has been converted or canceled and you may plan your schedule accordingly. As a courtesy, Honors Institute staff will contact every student regarding schedule changes.