Scholars Active in Learning
Over 27 Years of Exceptional Lifelong Learning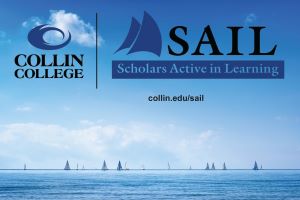 Click here to see the Fall 2023 schedule
Spring 2024 Registration begins January 8.
Classes begin January 29.
Spring 2024 schedule is under construction and comes out December 18th!
*Registration never closes, so contact the SAIL office and we will get you registered!

sail@collin.edu | 972.985.3788
Scholars Active in Learning (SAIL) is a community of life-long learners participating in organized study, discussion, and social events through Collin College since 1996.
SAIL Highlights:
SAIL provides educational opportunities for seniors (55+) in a relaxed, conversational environment.
We offer classes in the fall, spring, and summer terms, along with Guest Speakers and sponsor social activities throughout the year.
Affordably priced per terms.
Conveniently scheduled classes with free parking.

SAIL Without Borders!

No geographical restrictions to take SAIL classes.
Want to get even more involved? Teach a class or volunteer with SAIL!
What is the mission of SAIL?
SAIL participants are here for the sheer joy of learning something new and becoming more informed. The SAIL community includes talented instructors, college professors, and business leaders with categorical expertise in a myriad of subject areas. Students learn from each other, hear and consider opposing ideas, integrate the expertise of the instructor, and ultimately synthesize new knowledge, opinions, and views.
Program Details:
Ages 55 and up
No degree required
Classes are non-credit—no tests, grades or papers to write
No residency requirements
Special social events and guest lectures
Courses available at the Courtyard Center, Frisco Campus, Collin Higher Education Center, Celina, Farmersville & Wylie Campus. *Campus course availability varies by semester.
Program Costs:
$115 per semester (fall-spring) for up to eight courses and unlimited online courses.
$25 Summer semester for unlimited courses
Guest Lectures are free to attend as part of your membership
Need that perfect gift for someone special?
Contact the SAIL office at 972.985.3788 or email us at sail@collin.edu for information about purchasing a gift membership!
Choose from a variety of course topics:
Literature and writing
History
Art appreciation
Music and film
Social sciences
Mah Jongg
Current events discussions and lectures
Your generous donation to SAIL helps with future programming, memberships and scholarships! Thank you!!
"You are applauded for providing the SAIL members additional resources for learning and engagement. I am totally in love with SAIL!"