Collin College Jazz Festival
2019 Collin Jazz Fest
Featuring Guest Artist Chad Lefkowitz-Brown
March 29-30, 2019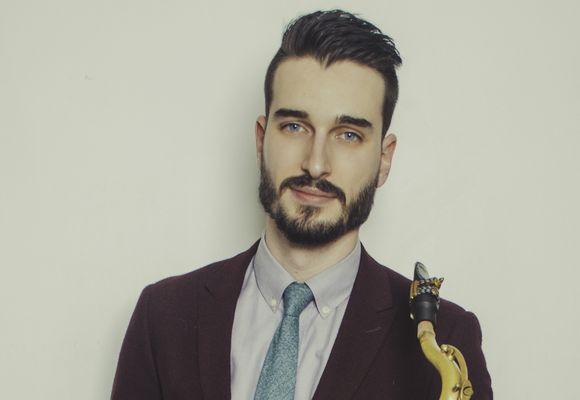 Collin Jazz Fest was established in 1993. The festival begins on Friday, March 29 with an opening concert, and continues all day on Saturday with anywhere from 10-30 high school and middle school jazz ensembles performing on campus, in the John Anthony Theatre and either the Conference Center or the Black Box Theatre for our adjudicators, made up of outstanding jazz musicians and educators from Collin and elsewhere.

One of the highlights of the festival is the appearance of a guest artist, a jazz performer who is nationally and internationally known in the field. This year's artist is the rising tenor saxophone star, Chad Lefkowitz-Brown. Chad will perform on the Friday night concert with a small group made up of some of the Collin jazz faculty, give an hourlong master class/clinic on Saturday for both the Collin students and the visiting high school/middle school students, and perform with the Jazz Lab Band on the Saturday evening awards concert. Read more about Chad Lefkowitz-Brown here.
Each performing group has 45 minutes in the warmup room (with the last 5-10 minutes being utilized to move the group to the backstage area) and 45 minutes onstage. Whatever time is left of the 45 minutes after the group's performance (using the last five minutes to break down and leave the stage) is devoted to a clinic given by one of the two judges in the room. Each judge provides a comment sheet to each band.
This is not a "competitive festival" per se; we do not rank groups first, second, third, etc., nor do we give UIL-style ratings. But we do recognize excellence: the adjudicators will decide on a few bands to receive a plaque at the Saturday evening concert that recognizes them as an outstanding band of the day.
If you are a band director, and are looking for registration information, click here.

Ticket Information
Tickets are available online at collin.universitytickets.com. General Admission Tickets are $8.00. High School participant discounts are available through the school's director. Performances during the day by the visiting schools are free and open to the public.