Collin College Police Department
The Collin College Police Department (CCPD) and Office of Emergency Management (OEM) are dedicated to providing a safe learning and working environment from all hazards.
In case of an EMERGENCY:
Call 972.578.5555 from an off campus or cell phone
Call 5555 or select the emergency button on campus phones
---
In case of an emergency : See something - Say something.
KNOW the location of the nearest telephone and call 972.578.5555
Report all pertinent information and facts: WHO, WHAT, WHEN, WHERE and HOW. At this point, the campus provost will manage the information flow. and treat the incident confidentially.
NOTIFY campus provost once emergency personnel or campus police have arrived and the immediate crisis is being managed.
College personnel must NEVER TRANSPORT individuals. You may assist in securing transportation via emergency vehicle or family/friend of injured/ill person.
---
The Collin College Police Department (CCPD) protects and prevents criminal activities and threats through community policing by creating a bond with students, faculty and staff. This proactive approach develops trust between the police and those that they serve.
The CCPD is organized, trained, and equipped to respond criminal activity, as well as real or perceived physical threats to the College community. The CCPD accomplishes this through constant collaboration with other college departments and municipal agencies.
Click here for more information.
---
The Office of Emergency Management (OEM) directs the development, implementation, and maintenance of the College's emergency management program. OEM also enables, promotes, and supports the College community in effectively preparing for, responding to, and recovering from emergencies.
Click here for more information.
Each campus has an identified employees to serve as the Campus Emergency Response Team (ERT). The purpose of the team is to promote safety and security for campus personnel before, during, and after an emergency.
---
Campus delay or closure
Click here for information on campus delay or closure.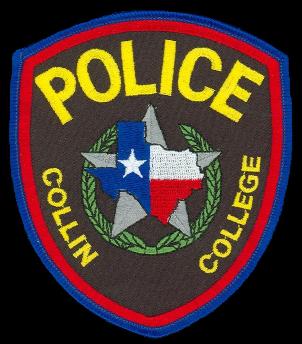 Annual Security and Fire Safety Report
Timely Warning Alerts

CLERY Daily Crime Log
About Us



Apply here to join us in the future growth of Collin College and the Collin College Police Department