Collin College Police Department Mission
The fundamental mission of the Collin College Police Department is to uphold and enforce the Constitution of the United States of America, all applicable federal, state and local government and Collin College laws and regulations. To ensure a positive learning environment that is free of crime, violence or the threat of violence.
Collin College Police Department History
Due to the rapid growth of the student population, the Collin College Police Department was formed in December 2002 to serve students, staff, faculty and community members throughout the college district. Officers are located at each campus and currently serve an annual student population of approximately 40,000 as well as community members. All Collin College Police Officers are Licensed Peace Officers and have an average of ten years law enforcement experience.
Per the Texas Education Code, Chapter 51.203, Campus Police Officers are empowered with county wide jurisdiction and work under the same authority as municipal and county agents.
Department Insignia
Campus Police badge and patch used from 2005 - current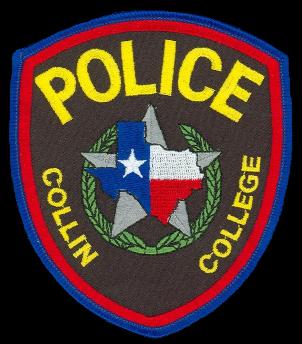 Campus Police badge and patch used from 2002-2005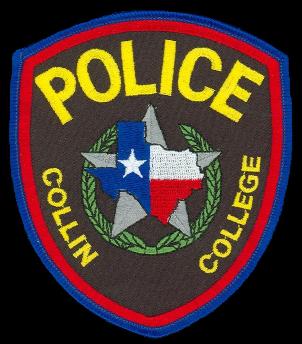 Annual Security and Fire Safety Report
Timely Warning Alerts

CLERY Daily Crime Log
About Us



Apply here to join us in the future growth of Collin College and the Collin College Police Department